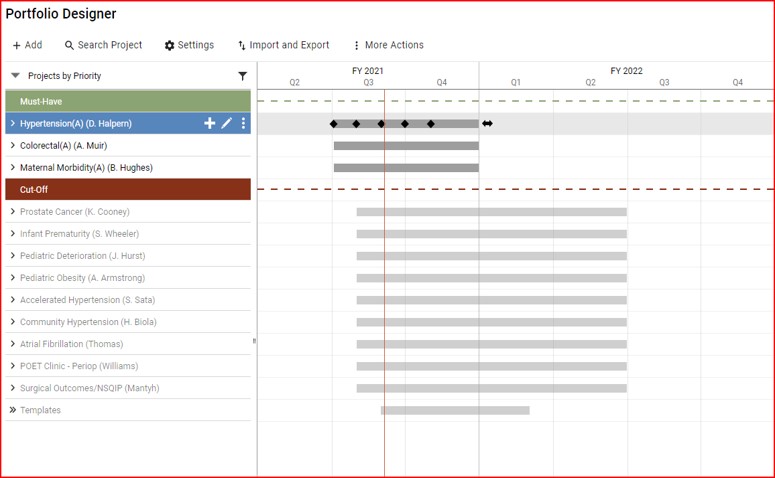 Achieving significant and meaningful change in healthcare is difficult. It requires the development of new approaches in combination with the best of existing methods. CACHE tests methodologies, customizes them, and then integrates them into real-world clinical settings at Duke Health. We maximize return on effort and investment by:
Selecting efforts with greatest potential for impact on health equity
Scaling projects to enable implementation within 1 year or less
Creating accurate forecasting for needed resources
Accounting for the system's capacity to manage change
Working responsively with granting organizations, donors, and other contributors
Enable patients and clinicians to define activities that add value versus those that are wasteful
Understand existing processes, so that when changes are made, we can anticipate the effects
Standardize and improve processes that provide value; eliminate ones that don't
Create flexibility, capacity and standards that enable the care delivery system to respond to changing patient needs
Build this improvement process into every aspect of our daily work
CACHE is powered by cutting-edge clinical data science, partnering with world-renowned faculty at Duke with expertise that encompasses everything from simple regression to causal inference, natural language programming, and deep neural networks.
CACHE  works within Duke Health's Algorithm-Based Clinical Decision Support (ABCDS) framework, which provides industry-leading oversight and governance for the design, implementation, deployment, and continuous evaluation of clinical algorithms.
As part of a larger ecosystem that encompasses Duke Health, the Schools of Medicine, Nursing, and Engineering, and the Duke Clinical Research Institute, CACHE is able to tap into a deep pool of talent in both theoretical and applied statistical analysis, as well as global expertise and experience in data management, operations, and process engineering.
An Agile Approach to Portfolio Management
This agile process is applied to each CACHE project and managed through its lifecycle by a Tiger Team comprising key resources capable of ensuring project success in all dimensions.